Horse Guards Parade Ground
The Horse Guards parade ground is of interest to garden historians as a direct descendant of an ancient open space type: the parage ground. This was one of the uses of courtyards in Nineveh, Babylon and other Mesopotamian cities. The building (designed by William Kent) is on the site of Henry VIII's tournament ground ( 'tiltyard') and dates from 1742. It was built to accommodate the palace guard. Today, the guards are changed at the top of Horse Guards Parade every hour.
The parade ground was used as a car park until 1997. A scheme by Colvin and Moggridge landscape architects was then implemented. The ground was surfaced with resin-bound gravel and two trees were removed to open up the view into St James's Park.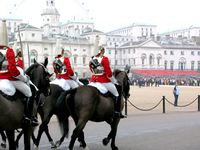 Horse Guards riding to their parade ground