Garden History Museum Garden
The Museum of Garden History is located in the former parish church of St Mary-at-Lambeth. When the church was facing demolition in the 1970s it was found that John Tradescant and his son (17th century royal gardeners and plant hunters) were buried in the churchyard. This led to the establishment of the museum. The garden, made in the 1980's, is a re-created knot garden - a renaissance influence on North Europe.
Visitors to Central London with an interest in garden and landscape history should plan to eat or drink in the museum cafe or, better, take their food into the garden.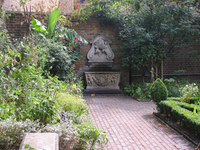 Garden History Museum Garden in Lambeth