Covent Garden, WC2
The old fruit and market has been imaginatively restored and the area pedestrianised by the Greater London Council to create a new shopping centre (of boutiques and bistros) which has become a major London's tourist attraction.
The space was originally a " Convent Garden" for the Convent of St. Peter, Westminster. In the 1630s a residential square was designed by Inigo Jones for the Earl of Bedford with a central square. The area was laid out with regularly planned residential streets. This was London's first residential square and was modelled on the Place des Vosges in Paris and Italian precedents. The square was surrounded by a colonnade called the piazza (non of the seventeenth century buildings survive but the north west portion was rebuilt follows the old model in the 1880s). From the 1640s the square was used as a fruit and flower market. In 1830 the present central market building was designed by Charles Fowler. In the 1960s the Greater London Council (GLC) proposed to relocate the market to the south of the river to and to build a main relief road for The Strand east-west through the Covent Garden area. The market relocation happened in 1970-1 but the Convent Garden Community Action Group persuaded the GLC to conserve the area and to convert the old wholesale market to boutiques and many streets were pedestrianised.
Covent garden has been an enormous popular and commercial success, which justifies a re-think. Changes could include:
relay the present setts on sand (this is how they were originally laid and it would provide for more sustainable drainage - SUDS)
introduce subtler lighting (as in the Place des Vosges today): electric, LED and gas
intensify litter collection
re-introduce retail fruit, vegetable and flower stalls
repave and traffic calm all the streets of Covent Garden between Drury Lane, The Strand and Shaftesbury Avenue
It is also time to consider extending the pedestrianised area into London's West End. As Jane Jacobs said: "In real life ... attrition of automobiles by cities is probably the only realistic means by which better public transportation can be stimulated, and greater intensity and vitality of city use be simultaneously fostered and accommodated".
See essay on Bounded but unbound public open space.
HOMEPAGE - Landscape Architecture London List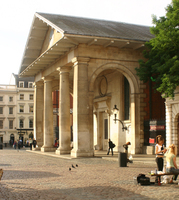 St Paul's Church, promised Inigo Jones, would be 'handsomest barn in England!' Like all his work, it drew from Palladio's interest in the relationship between classical temples and their landscape settings. The present church was rebuilt to Jones's design by Sir John Soane.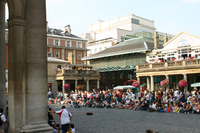 Covent Garden Piazza has been pedestrianised and licensed for outdoor performances