Claremont Landscape Garden
The section of Claremont which is open to the public does not include the house, designed by Lancelot Brown, to which the garden belonged. It is now a girl's school. The garden which is open to the public once had a baroque layout by Charles Bridgeman for John Vanbrugh, who owned the estate until 171. A belvedere (by Vanbrugh, c 1715) and a grass amphitheatre (by Bridgeman, c 1725) survive. William Kent began the transformation to the 'natural' style, converting the canal to a lake and designing an island with a pavilion (c1735). The lake was serpentined and is overlooked by the, carefully restored, grass amphitheatre.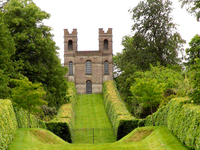 The Claremont belvedere by John Vanbrugh.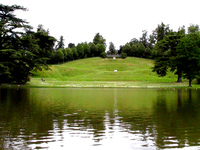 The Claremont amphitheatre by Charles Bridgeman