City Hall London
London City Hall and its setting was designed by Norman Foster with his usual misunderstanding of landscape architecture. Like a picture frame, it is treated as a means of enhancing the art object. Architecture Week described the building as 'looking more like a moon base landing unit than a city hall'.
An amphitheatre on the west of the building, known as The Scoop and belonging to More London, is finished in a cruel grey limestone. It is sometimes used for outdoor events but normally looks like a sister to the Traitor's Gate on the opposite bank of the River Thames: an entry point to dungeons for those accused of treason against the Mayor of London. When not in use for other purposes, it should be used for garden games.
As the photograph, right, shows there is a raised beach near the water level which could be used as a demonstration area for the Mayor of London's Blue Ribbon Policy. Policy 4C.3 of the 2004 London Plan states that:
The Mayor will, and boroughs should, protect and enhance the biodiversity of the Blue Ribbon Network by:
designing new waterside developments in ways that increase habitat value
protecting the value of the foreshore of the River Thames
allowing development into the water space only where it serves a water-dependent purpose or is a truly exceptional case which adds to London's world city status
taking opportunities to open culverts and naturalise river channels
resisting development that results in a net loss of biodiversity
Its all very well to 'protect' the foreshore value where it exists. We would like to see the Mayor enhance the City Hall Foreshore. The Greenwich Peninsula shows how this might be done.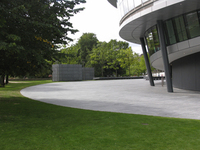 The blank paving at the foot of City Hall is merely a podium on which to display the building. For comparison, see Stockholm City Hall.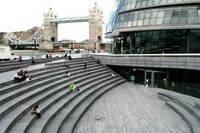 The Scoop' is an arena with south-facing steps. Normally unused, it reminds one of a bear-pit without the bear. It should contain a large outdoor chess-board, as below, but with the King designed to resemble the Mayor of London. Croquet works well at Exchange Square.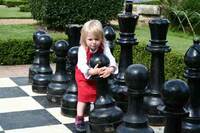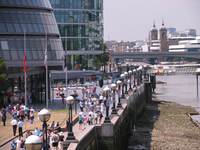 The river-level apron below City Hall should comply with the Mayor's Blue Ribbon Policy