Chelsea Bridge Wharf
Sir Frederick Gibberd had a keen interest in landscape architecture and it is being carried forward by the firm he established.
Chelsea Bridge is a high density apartment complex built round a water garden. Ground floor residents have circular decks projecting over the water and upper floor residents have balconies with views of the central garden. In many ways this is what Corbusier should have proposed. His Plan Voisin illustrations showed tower blocks standing like tombs in a gigantic landscape. At Chelsea Bridge the apartment blocks are used to surround, define and contain the communal garden space.
The scheme can be compared with New Providence Wharf.
Address: Chelsea Bridge Wharf, Queenstown Road, London SW8 4NF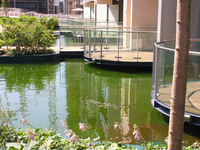 The communal gardens at Chelsea Bridge Wharf