Cardinal Place - landscape architecture
Cardinal Place provides 100,000 sq ft of retail and restaurant space round a glazed concourse. It is very well integrated with local pedestrian routes and functions as a glazed street, though without an indoor garden, and opens to Westminster Cathedral Precinct. Steps lead up to a cold shady roof garden. The landscape architects (DLP) have done a good job but EPR Architects shouldn't have designed it and Westminster Council planners shouldn't have approved it - because it makes such a slight contribution to the public good. If it had to be on the north side of the building, it should have been glazed like Tower Place Atrium or Hays Galleria.
Address: Victoria Street and Stag Place, near Victoria Station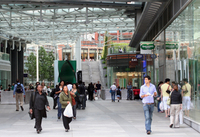 Steps lead from the glazed concourse to the Roof Garden, below.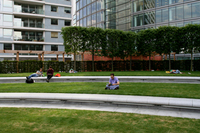 Cardinal Place Roof Garden on 23rd June.2006. No people are enjoying the sun because of the tall buildings to the south.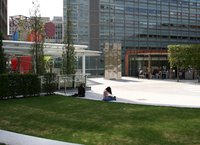 The north side of the Roof Garden gets a little sunshine