Canary Wharf landscape
Canary Wharf was launched by Olympia and York, then the world's largest private property development company but the project faltered in the early 1990s. The Reichman brothers had to sell out though they later managed to buy back an interest in the company. The avenue was designed by one of America's most successful landscape firms: Hanna-Olin. It runs from a windswept fountain at the foot of the Canary Wharf Tower (No 1 Canada Square) to West Ferry Circus. The latter is well-conceived and well detailed. It comprises a sheltered garden and a viewing terrace with panoramic views of Central London. See: discussion of landscape architecture and planning at Canary Wharf.
Access from Westferry Circus on the Isle of Dogs.
HOMEPAGE - Landscape Architecture London List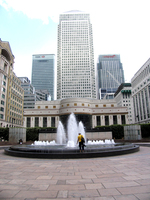 The windswept fountain in Cabot square - though it is well used on the hottest days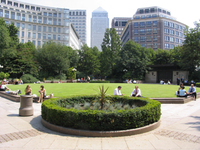 West Ferry Circus garden by Hanna-Olin