Broadgate landscape architecture
The Broadgate development, near Liverpool Street Station, has some of the best late-twentieth century office spaces in the City. The landscape design was designed by Peter Foggo of Arup Associates:
Finsbury Avenue Square is enclosed on four sides. It is paved and planted with trees, drawing something from the Italian tradition of urban piazzas and something from the garden tradition of London Squares
Broadgate Arena draws more than it should from the tradition of Roman arenas. The 'spectator terraces' are coctail bars. The arena is used as a skating rink in winter and for various events in summer (eg concerts). Spectators are attracted but find there are too few places to sit. (See also: The Scoop - an arena by City Hall).
Exchange Square is enclosed on four side, but with open arches to the north and south. Exchange Square
The Project for Public Space comments as follows: "One wants to like this complex that attempts to copy New York's Rockefeller Center. As a recent development (1985-1991) it tries hard to please. It has many of the makings of a quality office complex, but it is disjointed and fussy where it could be simple and connected. Arcades obscure the retail; art and water features are not well integrated, more of the "look but don't touch" variety. The skating rink area has so many levels that it's hard to know where you really are, or where you want to be."
The Broadgate London website (2006) is understandably more upbeat: " Broadgate is simply a great place to be - vibrant, dynamic, enjoyable to use and get around. This unique environment did not happen by chance. The design was based upon urban planning together with a commitment to world-class architecture and the creation of new public spaces for people to enjoy."
So who is right? Judge for yourself, but in our view the Project for Public Space is close to the truth..
Address: Eldon Street, near Broad Street and Liverpool Street stations.
HOMEPAGE - Landscape Architecture London List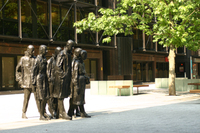 Finsbury Avenue Square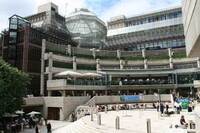 Broadgate Arena in summer - watching a basketball display