British Library Piazza
The 'courtyard' was designed as part of the Colin St John Wilson project, when the library was moved from Bloomsbury to Paddington. It was conceived as a 'forecourt', in the sense of a space designed to show off the building to best advantage, but the library changed its name to 'piazza', hoping to encourage its use by visitors. The BL website (in 2006) had the following account of the space and its artwork: "The Library is set back from Euston Road to allow for the creation of an enclosed courtyard to mediate between the turmoil of traffic on the main road and the point of entry to the building. There are several entrances of which the principal one is through the Portico. The Piazza provides an open space for readers and visitors to relax. There is an amphitheatre for small-scale open-air performances and a number of sculptures, including a bronze statue of Newton almost 4 metres high and Antony Gormley's new sculpture Planets which is on permanent public display."
The attractive outdoor cafe has done something to make the space a 'piazza' but it remains primarily a 'forecourt'. To create the sense of a quiet courtyard, it would be worth building along the Euston Road. This would provide useful accommodation for the Library and there could be a cloister-type arcade on the inside, providing an all-weather reading place. This could be the greatest Book Crossing site in the world! And the space could function more like the Boston Public Library Courtyard.
Address: The British Library, St Pancras, 96 Euston Road, London, NW1 2DB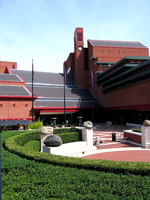 Anthony Gormley's Planets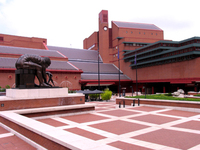 Eduardo Paolozzi's Newton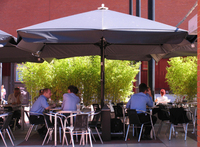 Piazza usage of the courtyard