Bishop's Square Bishopsgate/Spitalfields
An office development between Bishopsgate and Spitalfield's Market, designed by Foster and Partners. The architecture, in cold steel and glass, is greatly relieved by the outdoor space besign by Townshend Landscape Architects. The trees reflect each other back-and-forwards across the pedestrian space. The pool is a horizontal complement to the geometry of the building. But the space is somewhat too open and windswept to be counted among London's Squares. The glazed public space on the edge of Spitalfield's market has a more congenial climate for outdoor sitting but it is a pity the opportunity has not been taken to make a protected garden. Many exotic plants would appreciate the frost protection provided by the glazed canopy.
An admirable feature of the project is use of the roof for solar power.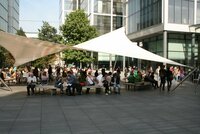 The canopy makes the space more comfortable for users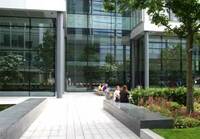 The outdoor space is cold and hard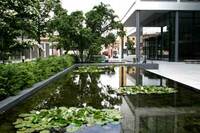 But the pool and the planting humanise the landscape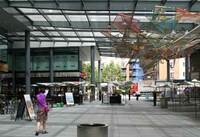 The glazed public open space has a warmer climate than the unglazed public open space.