Berkeley Square
Berkeley Square was originally designed by the landscape architect William Kent - and named after Berkeley House. The London planes (Platanus acerifolia) were planted in 1789. The Lansdowne Club was designed by Robert Adam. The square has a statue of the Pre-Raphaelite sculptor Alexander Munro (1858). It is famous for the song (1940) and film (1979) A Nightingale Sang in Berkeley Square:
When two lovers meet in Mayfair, so the legends tell,
Songbirds sing; winter turns to spring.
Every winding street in Mayfair falls beneath the spell.
I know such enchantment can be, 'cos it happened one evening to me
The sound of songbirds in Berkeley Square is now drowned by traffic noise. Greenwood's Map of London (1830) shows a belt of shrubs between the grass and the road. If re-instated, with an internal noise barrier, it could restore something of the square's tranquility.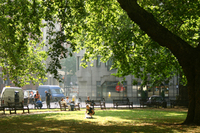 Berkeley Square in 2005, with the public seats exposed to traffic noise, fumes and dirt