Belgrave Square Gardens
Belgrave Square is the heart of Belgravia and one of the grandest century squares in London. It was built by Thomas Cubitt for the 2nd Earl Grosvenor in the 1820s. His statue still overlooks the square but he is cut off from the garden by a disordly stream of traffic. The houses are occupied by embassies, institutions and very wealthy families. The garden remains a private and protected place for their use. The streets should be re-designed to be more like Bedford Square.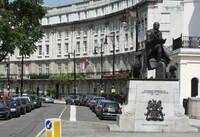 A statue of Robert Grovesnor overlooks Belgrave Square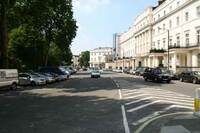 But what he sees is a wasteland of roads, road markings and parked cars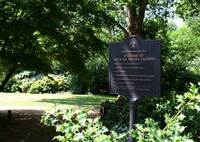 Belgrave Square Gardens. As the sign says 'Access for registered keyholders only'.