Battersea Park
Battersea Park is one of London's best nineteenth century public parks. It was designed for public use, unlike the royal parks, and has a wide range of facilities. The orginal design (laid out between 1846 and 1864 to designs by James Pennethorne and John Gibson) was rather dull but much has been added. The site was originally flat and swampy. In all probability it would now be designated a nature reserve and protected. But the land was built up using material excavated from the Royal Victoria Dock and supplied free of charge by Thomas Cubitt. Battersea retains many typically Victorian park features including a serpentine carriage drive, a formal avenue, an irregular lake, flower gardens and shrubberies. The profit which was made on the terraced houses in Albert Bridge Road and Prince of Wales Drive helped to pay for the park which they overlook.
In 1951 the Festival of Britain Pleasure Gardens (design by James Gardener) were laid out in Battersea Park. The Grand Vista was designed by Russell Page. The fountains have been restored. There is a Peace Pavilion beside the River Thames. Wandsworth Council, with consultancy advice from the landscape architects Derek Lovejoy and Partners, restored the park.
Battersea SW3.
See eBook Alicia Amherst on Battersea Park, 1907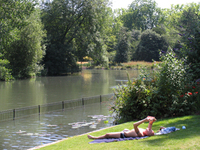 Battersea Park works well as an urban retreat.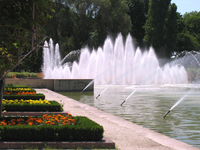 Battersea Festival Gardens have been restored and have a nostalgic 1950s character. The Grand Vista and the Flower Garden were designed by Russell Page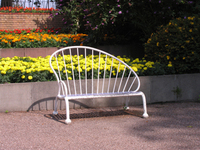 The restored furniture and planting has an Abstract Modern character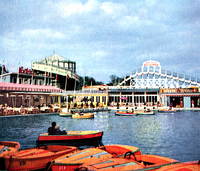 The much-loved Battersea Fun Fair has gone