Avery Hill Park
This municipal park was made as Colonel North's private garden. North was known as the Nitrate King. His house was damaged in World War 2 but has been repaired. It is now used by the University of Greenwich, which maintains the magnificent Victorian Conservatory.
Avery Hill Park is an ocean of mown grass. It is well maintained by Greenwich Council but receives little use - except by dog walkers. Students shortcut through the park from the Student Village to the Mansion House campus but no footpath has been made for them and the University had to close the campus entrance on the park front 'for security reasons'. One therefore has the impression that the park managers are unaware of 'their' park being the heart of a large university with one of the largest landscape architecture programmes in Europe. It is an amazing example of a park failing to respond in any way to its local community, and therefore being greatly underused. 'Just keep on cutting the grass' appears to be the municipal motto but they also maintain a vestigal rock garden and a hard-to-find rose garden.
There is much to be learned from community gardens like Meanwhile Gardens and the Calthorpe Project . Also, see essay on Public parks and boundless space.
Landscape architects: none
See eBook: Alicia Amherst on Avery Hill Park, 1907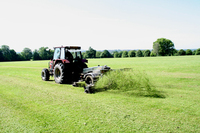 'Just keep on cuttin'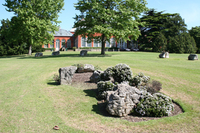 The rock garden and Colonel North's Mansion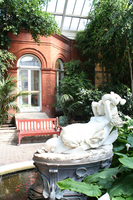 The great conservatory