London Olympic Stadium 2012
Park City Stadium Arenas Cycling Olympic Village Hockey Precinct Plan 2005 Photos
In 2005 most of the site was occupied by the Marshgate Lane Trading Estate. Most, but not all, of the occupants were opposed to the Olympic bid fearing, rightly, that the financial compensation they will receive for giving up their land will be less than its market value.
From an urban design standpoint loss of the buildings on this site will be no loss to London. From a landscape design standpoint the key issue is the relationship between the dramatic new stadium and the sensitive, ecologically-rich waterways which surround the site. The character of the waterways clearly has to change but it would be sad if they became concrete channels flanked by concrete walkways which are thronged with people during the games and vacant ever-after.
I used to think London's new waterside walks were being designed by morons but seeing a walk by the Royal Docks completed in 2005 (below) made me wonder if the work has been automated, using CAD programmes instead of humans. The walk is 10 metres wide and does not contain a single tree, shrub or flowering plant. Even the busiest parks in Central London do not have walkways of this width and the Greenwich riverside walk, with a width of 1.5 metres has more pedestrian traffic in a day than the Royal Docks can expect in a month.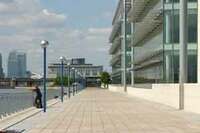 The Royals Business Park (facing the Royal
Dock) in 2005. Ten metres wide, this is a
dangerous precedent for the Olympic
waterside walks. A space like this could well be
busy during the Games but it would then be
vacant for the next half-century. See tour of
London's waterside greenways and
discussion of greenway planning.