London Landscape Plans: 1829, 1900, 1929, 1943, 1951, 1969, 1976, 1988, 1990, 1992, 2000, 2004, London landscape architecture,
A greenway is 'a route which is good from an environmental point of view'. London has many greenways and needs many more. As recommended in the 1992 Green Strategy, London needs a set of overlapping networks for:
pedestrians
cyclists
riders
wildlife
Parts of these networks already exist. What London needs is a period of intensive landscape planning, and high investment, to develop the individual networks into a comprehensive Greenway System for London with good links to other transport nodes (stations, bus stops, air ports etc) and to origins and destinations (schools, shops, offices, car parks etc). Greenways need not be vegetated. They must however be green from an environmental point of view.
Central London has two excellent greenways which should be linked through the former garden of Whitehall Palace. Shown in video, below, they can be called the Royal Parks Greenway and the South Bank Thames Greenway.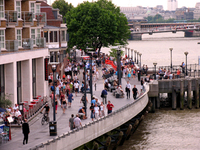 The greenway section leading to Bankside has become very popular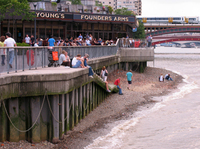 Riverside greenway with a pub and access to the beach: wonderful.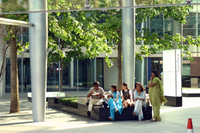 Greenways can have overhead glazing, as at Tower Plaza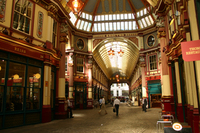 Greenways can be roofed and unvegetated, as at Leadenhall Market.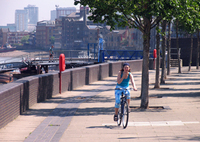 Cyclists are great users of greenways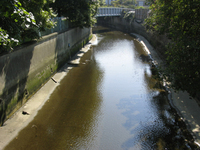 Typical channelized London river, awaiting conversion to a multi-purpose greenway.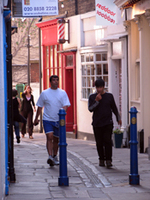 Greenways can have an urban character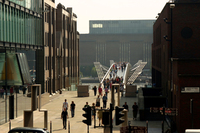 The pedestrian route from St Paul's Cathedral to the Tate Modern has helped make this one of the most popular areas of London for tourists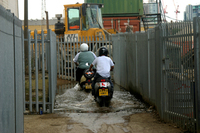 Newly planned greenway on the Greenwich Peninsula, awaiting a landscape design