London landscape and open space planning
Quicklinks: 1829, 1900, 1929, 1943, 1951, 1969, 1976, 1988, 1990, 1991, 2000, 2004, 2009 Draft London Plan,
The City of London was built by the Romans and remained a walled city until the Norman Conquest of 1066. Having made the country safe, the Normans built a monastery and a royal palace at Westminster - which was west of the walled city. In the sixteenth century Henry VIII acquired additional land which he used for Whitehall Palace, St James's Palace and St James's Park. When St James's Park was re-designed in the Baroque Style, by Charles II after 1660, Henry's royal parks (including Green Park and Hyde Park) became the core of what is now London's open space system. John Nash linked it Regent's Park, with a 'processional route' intended for the Prince Regent. John Claudius Loudon looked at London's open spaces in 1829 and proposed that the future development of London should take place by alternating rings of parks and buildings. Louis Napoleon and Baron Haussmann looked at London's open space plan and were inspired to build a network of avenues and parks in Paris. Frederick Law Olmsted looked at these plans and proposed aystems of parks for New York and Boston. The famous Emerald Necklace led to the foundation of the landscape architecture profession and to the International Greenways Movement. Olmsted's ideas, in their turn, influenced Abercrombie's great 1943-4 Open Space Plan for London.Something of this history is explained in these videos:
London has had great opportunities in planning its open spaces:
It is a capital city with a favourable climate, a great river and many undulations.
Kings, governments and people have agreed about the importance of open space for centuries. The Kings provided royal parks and the people paid for public parks.
Britain has a long democratic tradition and has been without the need for dense fortified cities longer than any other European country.
City-wide open space planning has been under active consideration for over two centuries.
A great series of open space plans was prepared for London during the twentieth century (see above links).
The obstacles to landscape planning in London have been:
A political tradition which has resisted government interference with the rights of landowners and questioned 'tax and spend' policies.
A reluctance, especially during the twentieth century, to devolve power from central government to municipalities or to park users and managers
A strong town planning profession (after 1947) which has lacked any kind of expertise in open space planning.
A weak landscape architecture profession, which led by a Landscape Institute which failed to take a lead in 20th century open space planning.
Recommendations re London landscape planning :
The old emphasis on parks must be supplemented by a new emphasis on multipurpose greenways.
Specialist expertise is necessary. The Open Space Strategies required by the 2004 London Plan should be prepared by qualified landscape architects and planners, not by people who only have qualifications in architecture, surveying, engineering or town planning.
Landscape planning should be democratized. It requires the continuous involvement of open space users. The subsidiarity principle requires local budgetary control. Consultation with a 'Friends of the Park' group is not enough.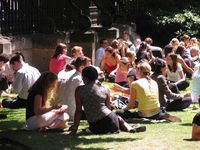 Londoners love their parks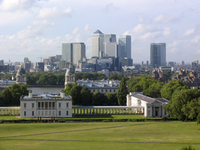 Greenwich began as a royal hunting park with a riverside palace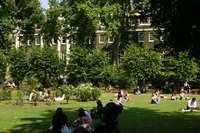 London is rich in residential squares. They were made for residents but many remain closed to the public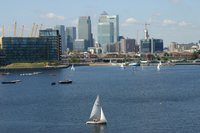 London's old dock basins are becoming water parks
Park users should have a say in park design and management.