18.2 Metaphysics of Parc de la Villette, Paris
Parc de la Villette is a statement on the metaphysics of architecture and landscape (Tschumi, 1987). The grand object of metaphysics has always been to comprehend the nature of being. Logical positivists, in the twentieth century, argued that traditional metaphysics is meaningless, because metaphysical statements are incapable of either verification or falsification. By this means, the attention of metaphysicians was directed to the ways in which statements acquire meaning. Some became interested in semiology, some in the deep structures that are common to different languages and cultures, some in grammar, some in aspects of language other than the logos: graphic signs, symbols, gestures and architecture. Deconstructionists have challenged the existence of a fixed connection between "surface' language and "deep' structures. They argue that meanings are shifting and unstable. An endless regression of dialectical interpretations opens before us.
Jacques Derrida, in Tschumi's account, casts some light on the relevance of these ideas to Parc de la Villette. Tschumi phoned him one day, explained the Villette project and asked if he would like to collaborate. "Why not?' asked Derrida, though at first suspicious of the concept of deconstructive architecture, thinking it might be an over-simplified analogy (Derrida, 1989). But he was attracted by the fact that an architect was "criticizing everything that subordinated architecture to something else'. At least since Vitruvius, architecture has been subordinated to considerations of commodity, firmness and delight. Derrida acknowledged that the ancient values should not be dismissed, but considered that after being deconstructed, they could be reinscribed in another work. In like manner, he challenged the hierarchical dominance of one term over another in the polarities of male--female, white--black, and author--critic. He did not wish to destroy the polarities, but to challenge the dominance of one pole over the other. This challenge is reified in the pavilions, known as follies, at Parc de la Villette. They were assigned a form before they were assigned a function. This is a crucial point. One might disparage the procedure as folly, or as "architecture against itself', but these are the very terms in which the scheme is advanced. One might also reflect that architects have done excellent work in adapting one building form for another use, or one style of architecture for another purpose, as in the progression of the classical orders from temple to palace to terrace to office. Should this prove to be the case with deconstruction, the theory may rejuvenate the metaphysics of architecture and landscape. It could establish a reasoned approach to the idiosyncratic question of style.
Architects are aware of the concrete frame imposed on their art by the principles of the Modern Movement. Landscape architects are unaware of an equally constraining framework, imposed on their art by the survey--analysis--plan sequence. It is a mock-deductive method, which leads to one-dimensional results. Gardens once had layer upon layer of meaning. At the most vital point in the history of English garden design, ideas were collected from many sources to contrive the landscape ideal. If I may quote myself:
They came from philosophy, art, politics, economics, horticulture, agriculture, forestry and science; from Greece, Italy, Holland, England, France and China. The grand coalition was then assembled in an English garden. (Turner, 1986)
Structuralist, postmodernist, post-structuralist and deconstructionist theory may provide a means of restoring multidimensionality to landscape design. A regression of dialectical interpretations could revitalize a stale art. The process was begun by Sir Geoffrey Jellicoe in the 1950s. I believe that his work is being set in a theoretical context by linguistic philosophy. In terms of design metaphysics, la Villette is a very important park.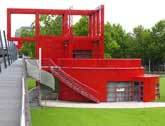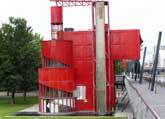 Metaphysically, the follies are the most accurate illustrations of the deconstructionist principle at Parc de la Villette: because their form was decided before their function.