7.5 Metaphor and Forestry
In the 1920s, Britain's Forestry Commission embarked upon the planting of what was said to be the largest man-made forest in Europe, in the Scots-English borderland. The Commissioners imagined that "by taking a little thought and possibly incurring a little additional expenditure... it might be possible to provide, for the future, areas as highly prized by the public as is the New Forest today' (Forestry Commission, 1934). Maybe that "little thought' was never taken; maybe the "little additional expenditure' was never incurred. Certainly, the Forest of Keilder cannot stand comparison with the New Forest. Later, the Northumbrian Water Authority created what they claimed to be Europe's largest man-made lake amidst Europe's largest man-made forest. If correct, the statistics may be impressive, but what was the result? An unbelievably dull place.
Conifers "march' over the Kielder hills, subjugating the land to their authority. "Extraction routes' and "fire breaks' criss-cross the forest with the delicacy of armoured columns. The lake is a sullen prisoner. Only an occasional yacht, or a visitor being chased by midges, animates the gloom. Keilder was designed by single-purpose authorities, one thinking about making wood and the other about making water. Design and planning ideas have changed since Kielder was made. But what would happen if current ideas were applied to the place? Probably, it would be planned to "minimize environmental impact' and the result would be even more boring. It was a dull place before the lake and forest were made. Respecting the genius of the place would make it duller still (Figure 8).
What Kielder needed was creativity. This does not require a Salvador Dali of the landscape, yearning to impose an egotistic will. Nor is it simply a matter of visual design. Such a great project needs serious, multifaceted and ambitious deployment of the human imagination. Besides the host of functional benefits that properly form part of the calculated yield, a forest should be an altruistic investment in the future. Great art embodies a view of man's past and future. This requires group and individual creativity.
Our ancestors, who were forest dwellers, bequeathed us a legacy of wonder tales in which forests have a significant role (Figure 7.9). Typically, a forester's son sets out to make his way in the world. Lost in the dark forests of life, he meets danger. A wise old person, in disguise, is encountered sheltering beneath a tree. After many tribulations, our hero emerges from the forest, marries a beautiful princess and lives happily ever after. This tale could be remade through forest design, as it is through ballet. One route could start from a refuge in a clearing. The path would set forth in a bright and optimistic manner. Difficult choices would appear. Divergent paths would become stony, enter dark woods and descend through sloughs of despond. Beautiful clearings with pools of fresh clear water could be made in those dark woods. The Slough of Despond should be used as a creative metaphor in forest design. The Valley of the Shadow of Death could be braved with hope if it led on to the Delectable Mountains: a gloomy route through a wild valley would lead the explorer to sunlit uplands. A Celestial City would rise above the waters of the lake. Kielder Water does in fact have a peninsula, which could be used as the site for a walled settlement. Such a place would attract a more soulful type of visitor than the holiday beaches of Southern Europe, and could be romantically spectacular. This would help in interpreting the whole forest as a mountain fastness, a lost kingdom waiting to be explored, a Shangri La of the Scottish Borderlands.
Alexander Pope, who spent his childhood in Windsor Forest, used forests in his poems and his garden. When buffeted by the winds of adulthood, he remembered the peace and beauty of his childhood fastness. Recalling that Horace had sojourned in the rural peace of the Sabine Hills, Pope determined that his Twickenham garden should play a Sabine role in his own life. Rural retreat became both a poetic theme and a garden theme. His Ode on solitude was Horatian:
Happy the man whose wish and care
A few paternal acres bound
Content to breathe his native air,
In his own ground.
Pope did not see the formal gardens of his day as peaceful forest retreats. His Epistle to Lord Burlington laughs at the conceits of the enclosed style:
Grove nods at Grove, each Ally has a Brother,
And half the Platform just reflects the other.
The suff'ring Eye inverted Nature sees,
Trees cut to Statues, Statues thick as Trees,
With here a Fountain, never to be play'd,
And there a Summer‑house, that knows no Shade.
Pope's mockery of formal gardens, and praise for nature, made him an important influence on the genesis of the Forest Style of English garden design (Turner, 1986). Poetry, which Coleridge defined as "the best words in the best order' (Coleridge, 1835) can inspire planning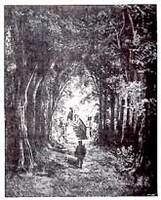 7.9 The hero enters a forset (illustration to a wonder tale, by Gustav Dore).