9.6 Language and the Environment
What should a new building say to a medieval town? "I love you but...'. The higgledy-pigglediness of medieval building makes it difficult to fit in with one's neighbours' inclinations. Instead of copying a predecessor's habits, it may be necessary to re-interpret ancient principles in new ways. The resultant architectural statement may be "I love your colours, I love your proportions and most of all, I love your materials. But I am young at heart and would like to have more light and glitter. My heart will be of oak, my sides will be colour-washed daub, my roof will be domed.'
What should a new building say to a derelict industrial site? "I bring new life to old lands.' In natural deserts, developers think first of protected compounds to protect against merciless winds and empty wastes. In urban deserts, they put high fences around buildings and car parks. Occasionally, this will be good policy. More often, especially if there is a public interest to be served by redevelopment, it will be appropriate to dip into the public purse and create the beginnings of a new infrastructure, which can be enhanced by subsequent development. The infrastructural elements could be a wood, a public path, a cycleway, a hill, a stream or a lake: each will help to structure later growth. An inherent danger in the "protective compound' mentality is that newcomers will follow the pioneer's example. Instead of a new society, the result will be a mass of frog-spawn. This is what makes Edge Cities so unlike other cities.
What should a building say about its occupants? As much as it wishes to reveal. Churches, lighthouses and windmills are classic examples of Talking Buildings (Figure 9.7). Each has an important role in society and each of the roles deserves to be publicized. Mosques say "God is great'. Banks say "Money is great'. The presence of expressive buildings enlivens both landscape and cityscape. They satisfy curiosity and impart knowledge of life's richness. It is a great pity when banks, insurance companies, apartment blocks, hospitals, schools and universities all look the same. And if they look different, it is regrettable if this is merely a consequence of the architect's personality. Eco-building is better than ego-building.
[FIGS 9.7, 9.8 ] In the 'New Zoning', when development projects learn to converse, zones will overlie one another. Designers and planners will learn to answer the classic GIS questions (Where, What if and What?) before taking decisions.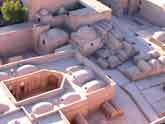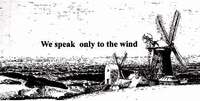 9.7 "We speak only to the wind"