The riverfront walk in Greenwich is the place designers should think most about. Its quality is much higher than anything made in recent times - and gives access to the foreshore.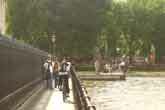 Though only Five Feet wide (1.5m) the Greenwich waterfront is hardly ever overcrowded. Also note the level: it has at normal high tide level. All the new walks are way above this level so that pedestrians are denied a waterside experience.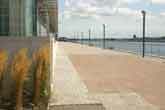 The 2005 riverfront walk by the Royals Business Park is 10m wide and does not have a single tree or a single shrub. One can only assume the designers wished to glorify their building.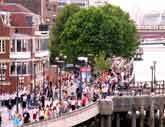 This is the type of crowd riverside designers dream about - but can have only near such attractions as generate these crowds: Tower Bridge, St Paul's Cathedral, the Globe Theatre and the Tate Modern.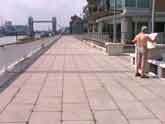 Hermitage Wharf waterfront: too wide and badly detailed: a disgrace.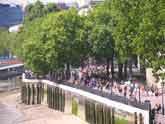 Tower of London waterfront: very well used because the Tower is so popular. The trees do not obstruct the pedestrian flow.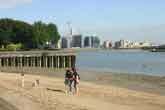 Recreational use of the Thames shore is still possible in a few places(Blackwall waterfront) but is discouraged by the Authorities.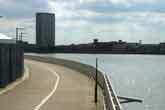 The walkway in front of the Greenwich Dome is excessively bleak - but not excessively wide. It resembles a single-track road with no cars.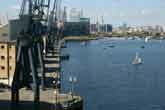 The old cranes along Royal Victoria dock are statuesque, and help screen the dreary architecture, but are no substitute for pedestrian amenity.