The Garden of Sennefur (or Sennefer) Return to Keymap
This most famous of all Egyptian garden plans no longer exists (it was on the roof of a chapel in the Western Valley of the Kings).
It is likely that Sennefer was the garden manager, rather than its owner, and that the garden was located somewhere within the Domain of Amun.
Without a shred of supporting evidence, I guess it was beside the processional avenue of sphinxs between the Temple of Karnak and the Temple of Luxor. A possible site is marked by the number 20 on the key to photographs. and the recommended site is shown on the photograph below the plan (right). Whether or not this is correct, there is an excellent place in this area where the garden could be re-created. It would not be a particularly expensive project and it could:
do much to further understanding of garden history
provide a valuable new tourist attraction for Luxor
do something to lessen the tourist pressure on other sites in Luxor
The project could be funded in several ways
by an individual private sponsor
by Egypt's Minstry of Culture and the Municipality of Luxor
by a hotel which would like a site near the town center and away from the Nile
See also: the Garden Finder entry on Sennufer's Garden. with a link to Marie-Luise Gothein's analysis of the garden plan in her History of Garden Art..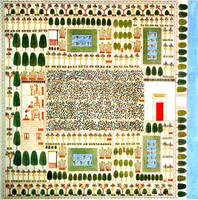 Plan of Sennufer's Garden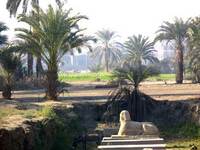 Possible site in Luxor for a reconstruction of
Sennufer's garden. See number 20 on the key to
photographs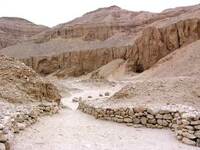 A view in the Western Valley of the Kings