Dier el Medina - the craftsmen's village Return to Keymap
The master craftsmen and artists who made the Valley of the Kings lived in an isolated village now known as Dier el Medina. They followed the cliff path to the Valley of the Kings, which can be reached by following the track in the foreground of this photograph.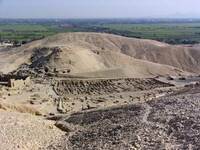 The layout of the most complete example of an
Ancient Egyptian village (above) explains why the
hieroglyphic symbol (below) was chosen as the
determinative for a village or city.