Humayun was the son of Babur, India's the first Mughal emperor, and was himself the first to be buried in a tomb with a garden setting. It was thus an excellent choice for the first major garden restoration project in India, funded by the Aga Khan, and one can feel nothing but gratitude for the team which carried out the work. This noticeboard shows before photographs paired with after photographs. As the photographs below demonstrate, it is wonderful to see a Mughal garden with the waterworks actually working. The only criticisms to be made of the project are: the planting design is not like the original planting the European-style stone seats introduce a foreign note to the composition Both these points are illustrated below.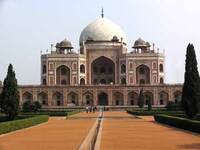 Humayun's tomb with a very well chosen rich red gravel used for the paths.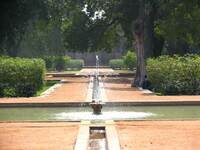 A delightful fountain, water flowing in the stone-edged channels and planting rising from below the walkway to above the walkway, as it should.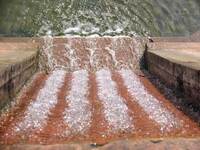 A chadar (water sheet) cascading into a pool.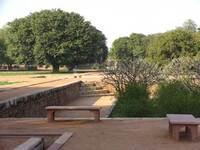 This photograph shows: European-style backless seats, of a type never used in Mughal days one of the few deep-sunk planting areas containing plants But character of the planting is un-historical. It should be filled with fruit and flowers of the kind so much appreciated by the Mughal emperors. See notes on Mughal gardens and Mughal planting.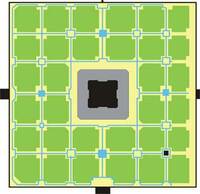 Humayun's Tomb Garden has a symmetrical plan. Because the word chahar bagh means 'four garden', etymologically, it is tempting to think of this as a classical example. But it now seems unlikely that the old Persian, Timurid and Afgan gardens which inspired this pattern were themselves symmetrical.