Conservation - origins of the movement
index
Conservation movement - Garden conservation - Comparisions - Education - Garden historians - Data collection - Garden Archaeology - Data storage - Data processing - Conservation plans - Case study
When the Church Fathers picked up the torch of European civilisation after the fall of the Roman Empiare they did not have a high regard for pre-Christian remains. They were seen as largely pagan and unworthy of conservation. Matters concerning the early history of the church were in a different category. Holy relics had the highest status: the bones of saints, stones from Golgotha, fragments of cloth. Such items were stored in precious caskets and kept in the safest places.
Following the renaissance other historic items were taken into protective custody. Classical statues were dug from the earth and used in houses and gardens. Old manuscripts were collected, stored and translated. The Vatican Museum amassed the world's largest collection of classical art. When kings, conquerors and dilettantes visited Italy they returned home with statues, paintings and other artefacts. These collections formed the nuclei of private and then national museums in Britain, France, Spain, Germany and elsewhere.
Noblemen on Grand Tours often took experts with them or sent them on separate journeys. John Tradescant was employed by Robert Cecil, first Earl of Salisbury, to travel Europe. He brought back plants for the garden at Hatfield House. In 1626 Tradescant leased a house in London and formed a 'cabinet of curiosities' which became famous and is now regarded as the first public museum in Britain. The admission charge was 6 pence. Tradescant and his son are buried in the grounds of what is now the Museum of Garden History. When Oxford's Ashmolean Museum was opened to in 1683 John Evelyn called it the "first public institution for the reception of rarities in art or nature established in England." The British Museum in London for "the learned and curious" was established by act of Parliament in 1753. Germany played a leading role in the development of museums during the nineteenth century.
Also during the nineteenth century treasure hunting developed into archaeology. This progression is best seen in Egypt. Early visitors were mostly interested in finding objects to take home. Napoleon Bonaparte, though travelling as a warlord, took with him a highly skilled team of artists and scientists. They made accurate records of what they found and saw. By the end of the nineteenth century archaeology was developing into a systematic procedure. This helped in focussing interest on buildings. Viollet le Duc (1814-1879) engaged in both archaeological investigation and architectural reconstruction (eg of Carcassonne). By the century's end William Morris and others were arguing for wide-scale preservation of historic buildings.
Europe lost much during the Second World War and the movement to conserve what was left gained momentum from its destruction. German and Allied generals took important decisions which saved Rome and Paris from bombing. London was less fortunate and Berlin was the most unfortunate of capital cities. After the European Conservation Year of 1970 there was a serious move to conserve towns and townscape as well as individual buildings.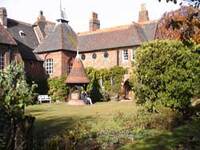 William Morris, for whom the Red House was built, was a pioneer of the modern conservation movement