1
General issues in conservation
index
Conservation movement - Garden conservation - Comparisions - Education - Garden historians - Data collection - Garden Archaeology - Data storage - Data processing - Conservation plans - Case study
Before turning to garden conservation it is worth considering the principles which govern other categories of art heritage conservation work. All of them, needless to say, are characterised by dilemmas.
Paintings
Atmospheric conditions (light, temperature, humidity, cleanliness etc) have to be optimal to preserve the physical fabric of the substrate on which the painting was done and also the pigments which were used. Water colours are subject to fading and should never be in sunlight. The varnish on oil paints tends to discolour: should the varnish be removed to reveal the 'original' or should it be left alone as part of the work of the artist? Egg tempera on plaster is subject to all sorts of problems if left in situ. Should it be conserved on site or should works be removed and stored in museums?
Sculpture
Statues are subject to erosion, corrosion and breakage. Bronze suffers little from corrosion. Marble and limestone are subject to attack by acid rain and to breakage. The Victorians were not unwilling to fix imaginary parts (eg missing limbs) to marble statues. This is now regarded as a serious detraction from their authenticity and the practice is almost universally condemned.
Architecture
Buildings have more challenging policy problems than paintings or sculpture. Decayed roof timbers must be replaced. Should it be done with the same timber as before? Should it be treated with preservative chemicals? Stone may have to be replaced. Is it essential for the new stone to come from the same quarry as the old stone? Many classical stone structures, including Greek temples and the interiors of gothic cathedrals, were painted. Should the paint be renewed? When a Victorian ceiling needs re-painting, should it be done with distemper or with modern emulsion paint. Many old buildings (eg churches, hospitals, prisons) have lost their original use. To what extent should their structure change to reflect a new use? When buildings have been destroyed and have been covered with earth for centuries (as happened to all the buildings at Delphi), should they be rebuilt? Was Sir Arthur Evans right to attempt a re-construction of the Palace of Knossos on Crete? Should medieval castles be fitted with electricity and water supplies?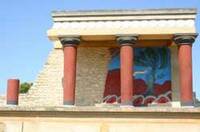 Sir Arthur Evans restoration work at the palace of Knossos raises important issues in conservation: (1) it helps visitors visualise the ancient palace (2) its historical accuracy is questionable (3) its presence obscures genuine archaeological remains. The conclusion, surely, is that such projects have value but they should be built outside archaeological sites - not on top of them.