National Parks and Nature Parks
Administratively, the idea dates to the formation of America's National Parks.
Conceptually, the idea is far older. It can be traced to the sacred groves of the ancient world. They were places where humans could learn about the nature of the gods. Egyptian temples did their best to explain how the world was created (by Amun-ra)) how life and death are linked and how the Earth was related to the universe. Modern national parks and nature parks let us observe 'untouched nature' so that we can understand, with the help of science, how the physical and natural worlds evolved.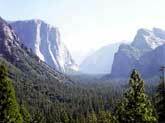 Yosemite National Park (above) and Hwange National Park