Medicinal gardens - garden of simples
Also known as a herb garden or a garden of simples, specialised medicinal gardens have been made at least since the Middle Ages, though plants were grown for medical purposes long before. A 'simple' is a herb used on its own in medical treatment. Many modern drugs are, of course, extracted from herbs and other plants. But modern herb gardens are used more for cooking than for medical purposes.
Grow Your Own Drugs: Easy Recipes for Natural Remedies and Beauty Treats
is a popular book by James Wong (who trained at Kew) with recipes to treat common conditions using the herbs, flowers, fruits, vegetables and roots growing in your garden.
De Medicina (On Medicine) by the Roman author Aulus Cornelius Celsus has information on the use of herbs (simples) in medical practice. He advises, for example, that 'The following increase the urine: garden herbs of good odour, as parsley, rue, dill, basil, mint, hyssop, anise, coriander, cress, rocket, fennel; and besides these asparagus, capers, catmint, thyme savory, charlock, parsnip, especially growing wild, radish, skirret, onion; of game especially the hare; thin wine, pepper both round and long, mustard, wormwood, pine kernels'. (II.31)
Herb gardens for acne treatment
Herbs are, for example, used in the treatment of acne. At one time acne was seen as a minor irritation. With physical perfection more and more prized, acne looms ever larger as The Teenager's Curse. An amazing range of acne physical and chemical treatments is available but there is also a growth in natural and herbal acne treatments. The following herbs have been used for acne treatment:
Green Amaranth (Amaranthus viridis) - the seeds are used used to make an acne face wash
Calendula (Calendula officinalis)
German chamomile (Matricaria recutita)
Witch hazel (Hamamelis virginiana)
Licorice root (Glycyrrhiza glabra)
Flaxseed (Linum usitatissimum)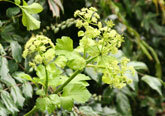 Alexanders: Smyrnium olusatrum, or Wild Parsley, was recommended to break wind and to provoke urine.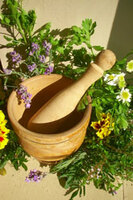 Alexanders: Smyrnium olusatrum, or Wild Parsley, was recommended to break wind and to provoke urine.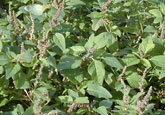 Amaranth is used as a face wash in acne treatment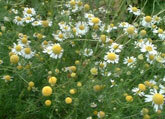 Chamomile is sooths acne and is antibiotic