Hunting Park
So long as homo sapiens remained nomadic, there was no need or opportunity to make hunting parks.
But when significant areas of land became used for agriculture and settlement, people began to yearn for the pleasures of hunting and it became necessary to fence large tracts of land as hunting parks. This was done in Ancient Mesopotamia and also in Ancient China. See hunting park and forest style.
The practice of making hunting parks spread to North Europe during the Middle Ages and many of the old hunting parks continue in use as deer parks.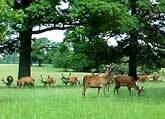 The deer park at Woburn Abbey.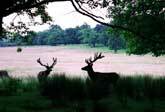 Deer in Richmond Park, London.