Alpine Gardens
As a type, the Alpine Garden was a nineteenth century invention, best understood as a product of the Romantic Movement.
The Movement Movement began with poets and scholars dreaming of far-off times. This was easily extended to dreams of far-away places. During the nineteenth century it was not so easy to visit other countries unless you were intrepid plant collector. This led to people using plants to re-create the scenery in which they had been collected. Humphry Repton favoured American Gardens and Reginald Farrer became famous writing about Alpine Gardens.
Today, there are Alpine Gardens even in the Alps.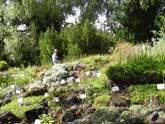 An Alpine Garden in Vienna, Austria