Design with Climate return to
return to student Design Guide index
There are two major considerations:
design for comfort - to make outdoor space which is 'cool when it hot and warm when its not'
design to celebrate the marvels of sun, wind, frost, rebirth and other climate-related phenomena
design for plants
Design with climate - for comfort
Domestic courtyards in China were planned according to climatic and symbolic criteria from the earliest times until the advent of 'modern' 'functionalist' architecture with Marxism and Leninism. Traditional practice was to orient buildings and courtyards on a north-south axis. In North China, which is cold, this caught the sun and gave protection from arctic winds. In South China, which is hot, this caught the breeze from the ocean. Deep porches were used, as in Indian and American verandah's, to (1) give deep shade in summer (2) allow the low winter sun to enter.
In the temperate zone, gardens should be planned with sitting areas for as many climatic conditions and times of day as possible: winter afternoons, autumn afternoons, summer afternoons, summer evenings.
Design with climate - for enchantment
The conditions of modern life require us to spend too much of our lives in climatically controlled buildings, detached from the natural world. For our leisure time there is a joy in appreciating the wonders of wind, sun, frost, dew, mist, growth and decay.
Climatic design for plants
Gardeners often like to grow a wide range of plants from many parts of the world - which have different climatic requirements: wet/dry, hot/cool, boggy/well-drained, full-sun/half-sun/shade. This requires consideration at an early stage of the design process.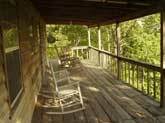 A verandah in America's Old South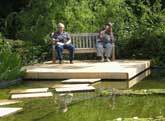 Seat in the sun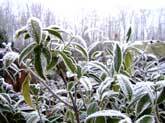 A frost pocket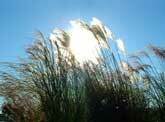 Sun and wind