Wide Open Ideas Competition for Tiananmen Square in Beijing, China
Tiananmen Competition Results announced Autumn 2011
First prize: Thunsdorff
Thunsdorff, Ueli Mueller Landscape Design, Kleinertstrasse 3, 8037 Zurich, Switzerland, mail [@] uelimueller.ch, www.uelimueller.ch
Second Prize Aga H
Aga H Agnieszka Hubeny-Zukowska, Pracownia Sztuki Ogrodowej, 80-360 Gdańsk Ul.Krzywoustego 5A/5, Poland, Tel./fax: +48 (58) 511-04-69 www.pracowniasztukiogrodowej.pl biuro [@] pracowniasztukiogrodowej.pl
Third Prize: Whitney Hedges
Whitney Hedges, garden designer and landscape architect, England, polkadotplants [@] googlemail.com www.whitneyhedges.co.uk
See also: Blog Post on Competition Results
See also: All Engries for Tiananmen Landscape Architecture Competition on Flickr
Dates for the Tiananmen Square competition

The competition was announced in March 2009
The Gardenvisit.com prizes will be announced in June 2010
Competition Entries should be published to Flickr as soon as they are ready. It is an ideas competetion so if two people submit similar ideas, priority will be given to the design idea which was published and added to the Tiananman Square Landscape Flickr Group first.
Brief for the Tiananmen Square landscape competition
The brief is to put forward an idea for the re-design of Tiananmen Square in Beijing, China.
Submissions for the Tiananmen Square landscape competition
Submissions should be illustrated with 1-5 images. They can be montages, models or plans, 2d or 3d, hand-drawn or computer-drawn or photographs of physical models. When uploading an image to Flickr please use the description field to outline the design idea.
Eligibility for the Tiananmen Square landscape competition
The competition is open to everyone: amateurs, students, professionals, anyone. It is a 'wide open' ideas competition.
How to enter for the Tiananmen Square landscape competition
Download plans and upload images to this Flickr Group. Entries can be made under a Flickr name or your own name or both:
http://www.flickr.com/groups/tiananmen_square_landscape_architecture_competition_2010/
Further information on the Tiananmen Square landscape competition
Reflections on the Tiananmen Square Landscape Competition
Tiananmen means 'Gate of Heavenly Peace'. The Gate was first built during the Ming Dynasty (1420) and the historic space was designed in 1651. Beijing, once known in Europe as Peking, is the best example of one of the world's foremost urban design traditions. Its dedication to Peace makes a wonderful contrast with the Triumphal Arches and Victory Avenues which litter Europe. China has a tradition of landscape and urban design which extends over 5,000 years - it began as cultivation was reaching the shores of North Europe.
In 1958 the world's largest and bleakest 'urban square' was laid out on what was once an Altar of Agriculture. Tiananman Square now contains a Monument to the People's Heroes (1958) and the Mausoleum of Chairman Mao Zedong (1977). It is a vacant expanse of slabs with nowhere to sit and nothing to do. The landscape architecture profession in China has grown rapidly but now faces a supreme challenge: how to re-design Tiananmen Square. Though understandable, Tiananmen Square was a terrible blunder and this should be recognized. Only then can it become the brilliant centre of world peace and civilization which Beijing deserves. The current lack of design is understandable for three reasons:
China had no tradition of creating public open space in towns at the time Tiananmen Square was re-designed. Nor did it have a landscape architecture profession and nor did it have much cash.
The design 'inspiration' for Tiananmen Square came from Stalinist Russia, which could just as well have taught lessons in running fair trials
As the capital of the world's most populous country, the Beijing authorities wanted to have the world's largest urban square
Tiananmen Square was an unsuccessful design for three reasons:
The section of Beijing's Ming capital it replaced should most certainly have been conserved
The landscape design of the new square has scarcely any use, scarcely any beauty, and is totally unsuited to Beijing's climate. People just stand around with nothing to but take 'I was there' photographs of each other.
The tragic events of 1989 are, one assumes, as much regretted by the Beijing authorities as they are by the rest of the world
So what should be done? This Ideas Competition is an attempt to help answer the question. Finding an answer is a great challenge for the landscape architecture profession. Please help!
Note: Ma Yansong has suggested foresting Tiananmen Square. For many Chinese people it remains a 'a spiritual holy land' which attracts crowds every day and only needs new paving. Others would like to have a great reflecting pool. Others would like to have new memorials. Others believe the present design should be faithfully conserved.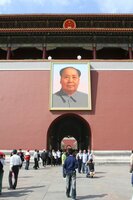 Mao Zedong watching the people in Tiananmen Square (image Gardenvisit.com)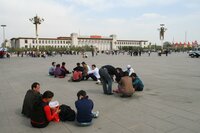 People of the Chinese Republic - with nowhere to sit (image Gardenvisit.com)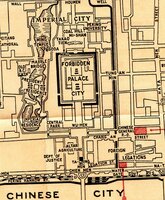 Thomas Cook's 1920 Skeleton Map of Peking (Beijing) showing the Altar of Agriculture and the buildings destroyed to make Tiananmen Square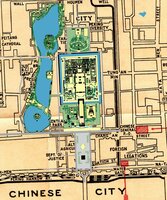 The 1958 landscape design for Tiananmen Square, shown with the Forbidden City and the Three Seas, with Cook's 1920 Skeleton Map of Beijing as a background (image Gardenvisit.com)