British Garden History & Design Styles

This webpage provides an online companion guide for Tom Turner's history of British Gardens: History, philosophy and design. It has a similar format to his Asian gardens: beliefs, history and design and European gardens: history, philosophy and design: they could be regarded as three volumes of an integrated book on Eurasian garden history. The links below go to many of the examples discussed in the book.

Tom Turner, British Gardens: History, philosophy and design London:Routledge 2013

CONTENTS: British Garden History

Preface
The first circular construction at Stonehenge was made some c5,000 years ago. Horticulture began in the Levant c10,000 years ago and reached the British Isles c4,000 BCE, probably by cultural diffusion. The design of gardens for temples and palaces probably began in Mesopotamia 5,500 years ago and the Romans made palace gardens in the British Isles after 43 CE. Yet these islands became home to the most enthusiastic gardeners and London became the capital city of garden design. Why?

British gardens came under the influence of renaissance design ideas, from Italy, France and Holland, towards the end of the fifteenth century. The gardens of the sixteenth century, often described as Tudor, were part-medieval and part-renaissance in character.
Moor Park Hertfordshire, Richmond Park, Richmond Palace, Theobalds House and Garden, Edzell Castle, Chastleton House, Old Gorhambury House, Wotton House, Albury Park, Wilton House, Bradgate Park, Doddington Hall, Charlecote Park, Great Chalfield, Audley End, Knole Park, Alkborough Maze, Nonsuch Palace, Queen Mary's Bath House, Hardwick Hall, Kirby Hall, Aberdour Castle, Glamis Castle, Pitmedden, Packwood House, Whittington Castle, Hampton Court Palace Garden, Middle Temple Garden, Arethusa Fountain in Bushy Park, Somerset House
The advent of Baroque influence on British gardens is associated with Charles I, Charles II and William of Orange. Parterres replaced knot gardens and avenues were projected from compartment gardens into the wider landscape, but there was usually something half-hearted about the British approach to Baroque culture - probably because England had become a protestant country with an emerging democracy.
Greenwich Park, Blenheim Palace Garden, Castle Howard, Seaton Delavel, Hampton Court, Melbourne Hall, Sayes Court garden, Stanway Baroque Garden, Wimbledon House, Boscobel, St James's Park, Wollaton Hall, Doddington Hall, Newby Hall, Chatsworth , Cirencester Park, St Paul's Walden Bury, Bramham Park, Glamis Castle, Windsor Castle, Kinross House, Castle Ashby, Temple Newsam, Levens Hall, Gibside, Dyrham, Castle Howard, Hampton Court, Westbury Court, Bramham Park, Castle Howard, Wrest Park, Claremont Landscape Garden, Castle Fraser
The famous 'landscape gardens' of eighteenth century England began as neoclassical re-creations of the imagined landscapes of the classical world.
Painswick Rococo garden, Traquair House, Chatsworth , Abbotsford, Moor Park in Surrey, Pope's garden and Grotto, Stowe Landscape Garden, Studley Royal, Chiswick Park, Rousham, Sherborne Castle, Stourhead, Painshill Park, Holkham, Castle Howard, Rievaulx, Duncombe, Blenheim, Hyde Park, Kedleston Hall, Kirkharle, The Leasowes, Alnwick Castle, Bowood, Great Tew, Claremont Landscape Garden, Petworth, Sledmere, Kew Gardens , Downton Castle, Prior Park, Harewood House, Duke of Atholl's Pleasure Ground, Water of Leith, Barnbarrow (Barnbarroch), Scotney Castle, Birkenhead Park,
The century from 1750 to 1850 saw increasing influence of the Romantic movement on British gardens. Deaming of the world's culture, the world's gardens and the world's plants, British garden designers worked in an eclectic mix of design styles
Leigh Court, Uppark, Wivenhoe Park , Bayham Abbey, Hatchlands , Hylands Park, Downton Castle, Foxley, Sherringham Park, Hampstead Garden Suburb, Duke of York steps , Cobham Hall, Biddulph Grange , Sudeley Castle, Drummond Castle, Trentham Hall, Trafalgar Square, Tatton Park, The Crystal Palace, People's Park Halifax, Warwick castle, Waddesdon Manor, Cannizaro Park, Avenham Park, Guildford Castle, Valleyfield, Regent's Park , Osborne House, Newstead Abbey, Kew Gardens , Sezincote, Alton Towers, Ashridge, Shendish, Underscar, Wakehurst Place, Sheffield Park, Nymens, Isabella Plantation in Richmond Park, Piercefield Park, The Derby Arboretum, Edinburgh Botanic Gardens, Clumber Park, West Dean, Arniston, Drumlanrig Castle, Dalmeny House, Lintertis House
Towards the end of the nineteenth century, British garden designers were influenced by the Arts and Crafts movement. They aimed to rescue garden design from eclecticism by learning from nature, craftsmanship and the fine arts.
Kelmscott Manor, Wordsworth's 'Dove Cottage', Strawberry Hill, Crystal Palace, Gravetye Manor, Chartwell, The Red House, Brickwall, Mellerstain, Godinton, Athelhampton, Haddon Hall, Munstead Wood, Hestercombe, Lindisfarne Castle, Snowshill Manor, The Salutation, Hanley Park, Roynton Cottage (now called Rivington Cottage), The Hill - Hampstead, Kearsney Abbey, Dyffryn, Sutton Park, Polesden Lacey, Arley Hall, Iford Manor, Manderston, Cottesbrooke Hall, Bodnant, Sissinghurst Castle Garden, Hidcote Manor Garden, Hinton Ampner, Crathes Castle, Borde Hill, Coton Manor, Kellie Castle, Great Dixter
Some British garden designers were attracted t the International Modern style but their clients, in the main, retained a loyalty to Arts and Crafts ideas. Landscape architects and their clients were much more attracted to abstract design principles.
The Homewood, Kiftsgate, Sackler Crossing in Kew Gardens, Noel Baker Peace Garden, The Gabo Fountain, Behrens House, The Water Gardens, The Barbican, Bishop's Square, Parque Güell, Port Lympne, Festival of Britain, Ditchley Park, The Caveman Restaurant, Bentley Wood, High Point - Highgate, Gibberd Garden, Water Garden in Hemel Hempstead, Chelsea Flower Show
Having been little attracted to abstact modernism, British garden designers found it relatively easy to accept post-abstract and post-modern garden design ideas.
Derek Jarman's Garden, Marco Polo House, Diana Memorial Fountain, Stillingfleet Garden, Scampston Hall, Penguin Pool in London Zoo, Sutton Place, Little Sparta, Portrack Garden of Cosmic Speculation, Scottish National Gallery of Modern Art, Laban Dance School, 2012 Olympic Park, Natural History Museum Wildlife Garden
Note: the gardens listed above are in the same sequence as they are illustrated in British garden history, which is why some garden links are duplicated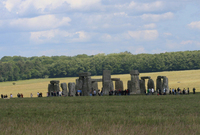 The stone circle at Stonehenge designed in relation to the landscape in which it is set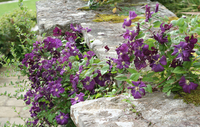 The British now associate gardens with ornamental planting - but this was a recent development in a 5000 year design history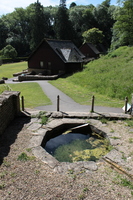 The sacred spring at Chedworth Roman Villa is on the edge of the garden - and has a kinship with garden ponds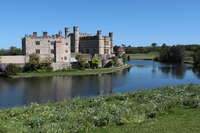 Leeds castle is set in a landscape designed largely for its quality as an amenity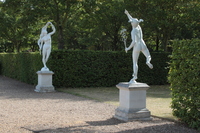 Ham house has one of the best examples of a (restored) renaissance garden in England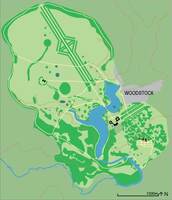 The avenues from the baroque garden at Blenheim Palace - but the plan is predominantly in the Serpentine Style of Capability Brown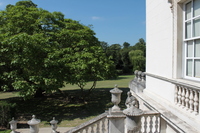 Chiswick Park had one of the first classical landscape gardens in England - designed by William Kent and Lord Burlington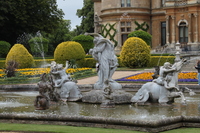 Waddesdon Manor has a great Victorian garden in the Gardenesque Style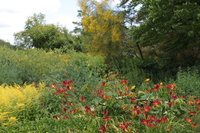 Sissinghurst has one of the best-loved Arts and Crafts gardens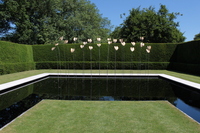 Kiftsgate has an Abstract Modern section in a predominantly Arts and Crafts garden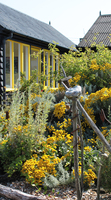 Derek Jarman helped to give garden design a postmodern turn - on the south coast of the British Isles