Rosamund Wallinger Gertrude Jekyll's Lost Garden: The restoration of an Edwardian Masterpiece (ACC:Woodbridge, UK) ISBN 1 870673 35 2
Go to Reviews Index
Come the hour, commeth the woman. Wallinger knew little about gardening when, in 1983, she and her husband moved from a small London house to a large country house. It was the Manor House at Upton Grey in Hampshire. Research informed her that the house had belonged to the founding editor of The Studio (Charles Holme) and that he had employed Gertrude Jekyll to design the garden. Next, she found Jekyll's original plans in the Reef Point collection and Berkeley. She decided to restore the garden as accurately as she possibly could. Rarely has the work 'restore' been more accurately used with regard to a garden. One reads too often of a walled kitchen garden being 'restored' as a flower garden.
Garden historians will be ever-grateful to Rosamund for her work. The first chapters of the book are also a very good read. The latter are a commentary on her garden diary and the indirect approach tends to lose the reader's attention.
Seventeen years is a short time in the life of a garden and we should not be impatient. But one has to say that the photographs reveal the garden to be less fruity than one would expect. Modern Arts and Crafts architects seem unable to achieve the richness of their predecessors a century ago. But modern plants-people seem able to achieve a greater richness than the most celebrated of all planting designers. If this is not a matter of time-to-fruition, it may be because modern planters have a much wider range of plants to draw upon. Another possibility is that the Tennis Lawn (east) front of the house has a much less interesting plan than the wild garden (west) front of the house. Whatever the reason, we must congratulate, and thank, the mistress of Upton Grey for a determined approach to historical accuracy. All power to her elbows. The strict policy has made the garden a very much more interesting place than it would be under any other policy.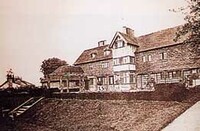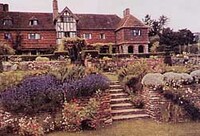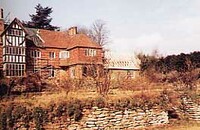 The Tennis Lawn front at Upton Grey in 1906, 1915, 1984 and 1998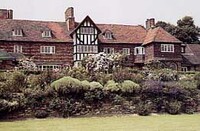 The Tennis Lawn front at Upton Grey in 1906, 1915, 1984 and 1998