Monty Don The Road to Le Tholonet: A French Garden Journey Simon & Schuster 2013
Monty Don is my favourite TV gardening presenter - and I like him even more when gardening is not his subject. He used to do a 'Down your way' type programme and his Shared Planet series on Radio 4 is excellent. I am less enthusiastic about Monty's forays into garden history but only when he skimps on the necessary homework. We have not met but he feels like a friend and I will use his first name.
Apart from occasional references to 'filming' you would hardly know from the book that it was produced in conjunction with a BBC2 series Monty Don's French Gardens. I watched the series and was expecting 'the book of the film'. In fact, connecting the media experiences was hard. Just as I would rather have a radio than a TV in the house, if forced to choose, I would rather have Monty's book than his film on French gardens. The book does have some photographs. Faded, grainy and on non-glossy paper, their quality is not good enough to be called awful. Yet they have charm – and are caption-less. One or two images from Monty's youthful travels have a quality which evokes the black and white postcards which used to be sold in Montmartre.
If I owned a bookshop and was sent this book I would read the blurb and puzzle over which shelf to place it on. It is described as part memoir, part history, and part travel writing. So I would have to read it and, having found it hard to stop, would then place it in the travel section.
Monty's French garden journey combines his observational skill with his knowledge of gardening and his talent for relating incidents from his own life. For a man who writes so well, it is amazing that he had to resit his English A level. I blame his school - just as I blame my school for a similar lapse. Monty was born in 1955 and began his youthful journeys through France in 1973. His tales are pleasantly evocative of my hitch-hiking experiences in the 1960s. But the France he describes reads more like the 1950s than the France I experienced. This is probably because he was in Provence and spent much more time with French people than I ever did.
The gardens visited on this French tour are 'personal and random'. Many are unknown to me, and probably to most people. On those which are great and famous, notwithstanding the above comment, Monty's history is well-researched and well-balanced. On Villandry, he remarks that 'There is nothing to suggest that it is in any way unfaithful to the original but equally no one is suggesting that it is a careful reconstruction'. The tension between 'unfaithful' and 'reconstruction' is a poetic truth.
Just as I once felt the need to earn my spurs in garden history by using Pliny's letter to draw a plan of his Laurentian Villa, Monty cannot resist re-telling the tale of Fouquet and Vaux. I must have read two dozen accounts of Fouquet's downfall. Monty's account is the best. He also has interests in hotels and food.
'Just outside Le Mans I stayed in one of those modern hotels that are decorated like a modern hospital waiting room and make no pretence of being anything other than a stopover for lonely underpaid businessmen and lorry drivers'. The book has witty and perceptive accounts of many things. You'll have to read and, like me, I guess you will end up liking Monty even more. I wish he would accept an invitation to chair the panel which Show Gardens at the Chelsea Flower Show.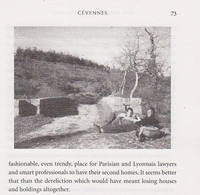 I think this the young Monty Don on a walking tour in the Cevennes