Jenny Condie, with photographs by Alex Ramsay The gardens of Venice and the Veneto Frances Lincoln 2013
Jennie Condie has persuaded me that another trip to the Veneto is overdue. This is a well written book with excellent photographs of beautiful gardens in a delightful part of the world. It has an Introduction, a chapter on Venice and five chapters on other sections of the Veneto. So I think its title should be The Gardens of the Veneto and Venice (instead of The Gardens of the Venice and the Veneto) .The chapters are unnumbered. Though not a problem, it signifies a lack of structure and story line. The chapters read like magazine articles. Much of the text is used to describe what can be seen in the photographs. Knowing about the themes of the sculpture and the names of the plants is useful. But, because of my particular interest in design history, I would like to know more. Few garden designers are mentioned and few design influences are mentioned. There are no current plans and the occasional historic plan is more likely to have a date of publication than a design date. Nor is there much information about the design.
Given that the book is written for English speakers, and that they probably know more about Palladio than any other designers from the Veneto, a short comparison of his work and his influence would have been interesting.
Jennie Condie is an art historian but I think the book was probably conceived as a visitor's guide. It has a useful map of garden locations (page 7) and useful details of opening arrangements (page 220). Since garden URLs are included, there is no need for directions. But most garden guidebooks include plans and for the visitors and I am sorry they were not included.
Francesco Colonna, a Venetian who had a vast influence on gardens through the Hypnerotomachia Poliphili, is mentioned only once. I would love to have read more. The two places most likely to take me back to the Veneto are Carlo Scarpa's Brion Cemetery i in San Vito d'Altivole (near Treviso) and Palladio's Villa Rotonda at Capra. Neither are included. But there are good accounts of Scapa's Venetian garden, for the Foundation Querini Stampalia, and of Palladio's fascinating garden plan for the Villa Barbaro a Maser.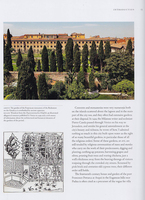 Jennie Condie's reference to Colonna's Hypnerotomachia Polyphili and its association with Venice is tantalising