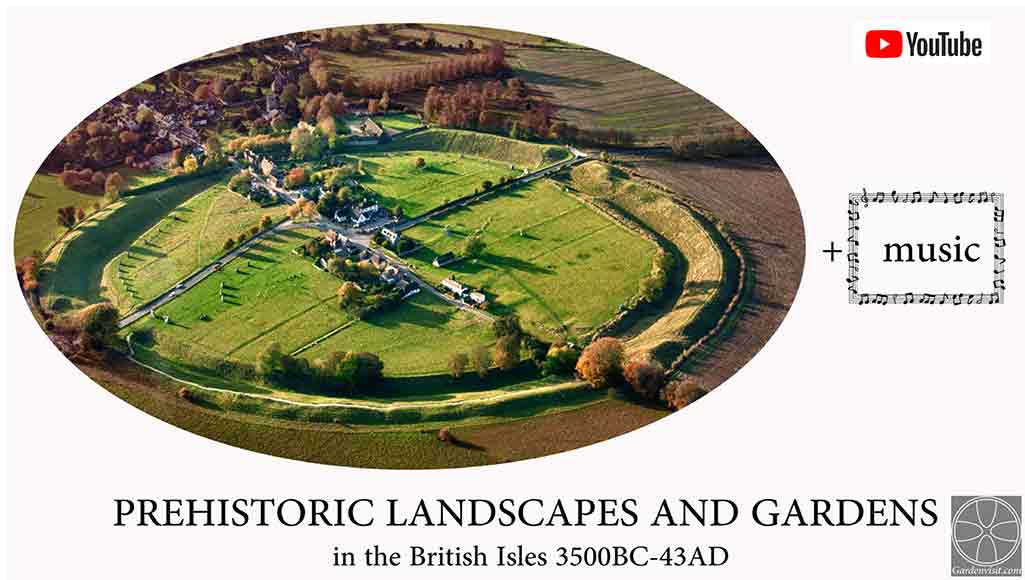 Prehistoric Gardens and Music
Gardenvisit.com History Homepage
Prehistoric man-made features evidence deep responses to landscape and social conditions. In the Neolithic period designs included:
• Settlements
• Vegetable gardens
• Causewayed enclosures
• Henges
• Stone circles
• Barrows and cairns
• Hillforts and brochs
• Standing Stones
Sites of landscape archaeological interest in the British Isles
This page was created to facilitate locating the sites of landscape archaeological in the British Isles that are illustrated on the Prehistoric Landscape Architecture and Music video. There are of course a great many other sites of archaeological interest in the islands.
Sites of landscape archaeology interest in England
Archaeolink [Note: this site was built as a visitor attraction and closed in 2011]
Avebury on Googlemaps and on Wikipedia
Butser Ancient Farm on Googlemaps and on Wikipedia
Castlerigg Stone Circle on Googlemaps and on Wikipedia
Cerne Abbas Giant on Googlemaps and on Wikipedia
Danebury Iron Age Hillfort on Googlemaps and on Wikipedia
Mayburgh Henge on Googlemaps and on Wikipedia
Old Oswestry Hillfort on Googlemaps and on Wikipedia
Silbury Hill on Googlemaps and on Wikipedia
Stoney Littleton Long Barrow on Googlemaps and on Wikipedia
Stonehenge on Googlemaps and on Wikipedia
Uffington White Horse on Googlemaps and on Wikipedia
Wayland's Smithy on Googlemaps and on Wikipedia
Sites of landscape archaeology interest in Scotland
Callanish Standing Stones on Googlemaps and on Wikipedia
Camster Grey Cairns on Googlemaps and on Wikipedia
Dun Troddan and Dun Telve Brochs on Googlemaps and Dun Troddan on Wikipedia and DunTelve on Wikipedia
Edin's Hall Broch on Googlemaps and on Wikipedia
Jarlshof Prehistoric and Norse Settlement on Googlemaps and on Wikipedia
Loch Tay Crannog on Googlemaps and Scottish Crannog Centre on Wikipedia
Maeshowe Chambered Cairn on Googlemaps and on Wikipedia
Mousa Broch on Googlemaps and on Wikipedia
Skara Brae Prehistoric Village on Googlemaps and on Wikipedia
Traprain Law on Googlemaps and on Wikipedia
Sites of landscape archaeology interest in Ireland
Drombeg Stone Circle on Googlemaps and on Wikipedia
Newgrange Neolithic Monument on Googlemaps and on Wikipedia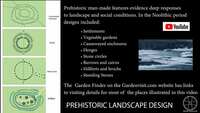 Prehistoric landscape and garden design