Booking Railway Tickets
The best mode of transport for you trip will depend on the country you are travelling to and the locations of the gardens you intend to visit - so it is important to plan your transportation before you set off.
Railway timetables are always prepared long in advance of coming into operation. All the rail operators in Europe and America put their rail timetables online. They also operate special tickets for tourists giving, for example, unlimited travel on a certain number of days in a certain number of countries. Student travellers get the best rail deals but their are also special rail ticket prices for senior citizens.
For Eurorail passes, see European Rail Distributors.
For rail travel within Britain see TheTrainLine: train times ticket booking and www.nationalrail.co.uk (though its much easier to telephone the passenger information line +44(0)8457 484950 [08457 484950 within the UK].
For English Channel rail crossings, see Eurotunnel and Eurostar.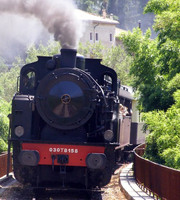 Train to La Bambouseraie. Photograph © Oxford Botanica/Adam Hodge