Swimming pools - review
Landscape and Garden Product Directory
Garden swimming pools should be designed by garden designers! It is sensible to let a swimming pool designer handle the technical side of retaining and filtering water - but the design of how the swimming pool into the garden requires a different type of expertise. The swimming pool shown top left illustrates this principle. It is beautiful. It does not look like a scaled down version of a municipal pool - or an outdoor version of an indoor pool. And for all those months when outdoor swimming is an unattractive proposition - you have a beautiful view. Even the 'Mediterranean blue' is pleasant - and this swimming pool is in London.
But just because the swimming pool resembles a garden pool does not mean that maintenance can be neglected. Swimming pools should be netted in autumn as a protection from falling leaves. There is much to be said for a sliding cover which pulls back to convert an indoor swimming pool into an outdoor swimming pool. The alternative to netting the swimming pool is to have an arrangement for draining the water and scrubbing it down in spring.
When a good maintenance regime for an outdoor swimming pool has been established it is possible to design a planting scheme in relation to the water. They are beautiful and they can provide shelter or shade, as required. Southern plants (phormium, olives, oranges, palms) create an image of warmth. A hot tub, designed in relation to the pool, can provide real warmth!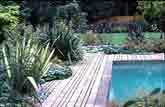 Garden swimming pool, designed by Preben Jacobsen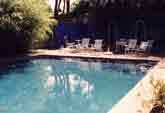 A relationship between pool, garden and landscape provides the 'best of all.possible worlds'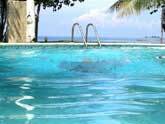 A swimming pool beneath palm trees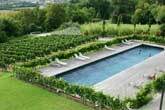 A swimming pool in an orange grove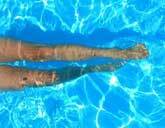 Dream pool