Hot bath Spas in Europe
Landscape and Garden Product Directory
Greek hot springs, Roman hot baths, Arab hamams, Turkish hamams, European spas, Garden saunas, American hot tub spas, Garden hot tub spas
North Europeans learned the art of making hot baths from the Romans. Aachen became famous as a spa town in the time of Charlemagne. The word spa, now in common use for a hot bath establishement, is believed to come from the town in Belgium called Spa.
European spas fell into disuse during the Middle Ages. Like the garden luxuries of Rome, they were associated with decadence and immorality. Spas were revived at the time of the Renaissance, as part of the general quest to revive the glories of Ancient Rome. Paeffers, in Switzerland, Spa in Belgium, Baden-Baden in Germany and Bath in England regained their fame as 'spa towns'. In 1546, Dr Franciscus Fabricius Ruremundanus of Aachen published an account of the healing springs of Aachen and 100 later, Franciscus Blondel published a 'Detailed explanation of the apparent miracle effect of the healing bathing and drinking waters of Aachen'. Drinking mineral water and bathing in thermal water became a favourite cure for diseases of the skin, joints and intestines.
Many of Europe's old spas were revived in the second half of the twentieth century and by the early twenty-first century new spas were being built everywhere.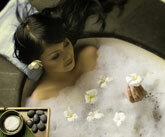 Hot spas and flowers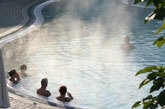 Hot spa in a garden setting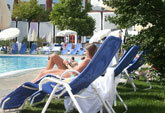 Sunbathing in a hot spa garden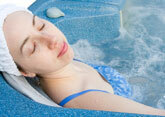 Spas can be an effective acne treatment