Green wall design
Sustainable cities , Sustainable gardens, Sustainable landscape architecture, Green building, Hundertwasser, Green roof planning, Solar panels, Landscaped Architecture, Walls and roofs, Vegetated walls,
Walls can be vegetated and should be vegetated - unless there is a good reason for leaving them unvegetated. Wall vegetation is:
good for thermal insulation
good for acoustics - it absorbs sound and prevents reflections
good for wildlife
good for carbon sequestration
We can therefore look forward to a time when architects are required to have a good reason for not vegetating walls.
The structure of the wall must, of course, be designed to resist moisture penetration. Old walls were not designed in this way and, if there is a risk of penetration, an external structure should be built to support vegetation. Modern walls can be designed to resist all passage of moisture and damage even by aerial roots.
Vegetated walls were popular in the designs for the Chelsea Flower Show 2008. A famous example of a living wall is at Musée du quai Branly, designed by botinist Patrick Blanc, who made his name making "vertical gardens".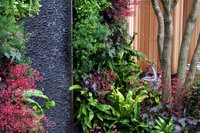 Living Wall in The Children's Society Garden, Chelsea Flower Show 2008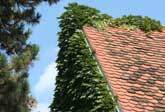 Ivy makes an old wall green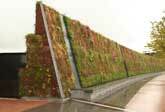 Green wall by the O2 Greenwich Dome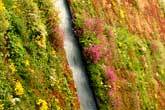 Green wall in Angers, France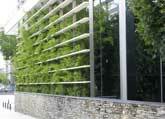 Vegetated Wall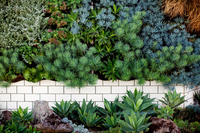 Green Wall using Woolly Wally Pockets