Steps - review
Landscape and Garden Product Directory
There are several famous principles for the design of outdoor steps:
Scale: outdoor steps should be more generous than indoor steps: longer treads
Drainage: treads need to have a fall so that water does not collect in pools
Blondel's Rule: 1 tread + 2 risers should = 24" (600mm) [eg 14" + 5" + 5" = 24", or 350mm + 125mm + 125mm = 600mm]
Mies van der Rohe's Rule: use 5" (127mm) riser + 14" riser (355 mm)
Outdoor steps look more comfortable when set into the ground
The point about scale is aesthetic and needs to be handled with care. Some designers have used such high risers and such long treads ('to be in scale with the building') that they are difficult to use. If the tread is long (say 600mm) then walker has to take a step on each tread - which results in the same foot being placed on the next step each time. This is irritating. It is better to extend the tread even more so that the number of paces on each tread is odd rather than even.
Stone and brick steps become part of the ground. This is pleasing. But there is also a case for building timber or steel steps which allow the earth, and plants, to flow and grow underneath the structure 'see-thru grow-thru steps'.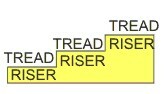 The important relationship is between the length of the riser and the height of the tread.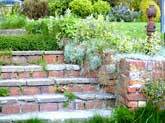 Outdoor steps proportioned like indoor steps - using stone treads and risers in non- frost-proof bricks
Outdoor steps with a more generous scale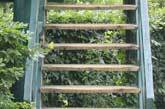 See-thru grow-thru steps