Stepping stones - review
Landscape and Garden Product Directory
Stepping stones have a symbolic and poetic quality:
I held it truth, with him who sings
To one clear harp in divers tones,
That men may rise on stepping-stones
Of their dead selves to higher things.
(Alfred Lord Tennyson Tennyson In Memoriam)
The use of stepping stones in gardens probably originated in the stroll gardens made in Japan's Muromachi Period. The aim was to make a perfect walk so that participants in a tea ceremony could make their way from the garden gate to the tea pavilion without an adverse impact on the perfection of nature or on the stroller's footware. The stepping stones passed through soil, water and vegetation. They allow a Zen experience in a Zen Buddhist garden.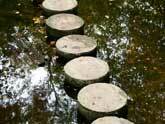 See note on stepping stones in water