Horticulture
Landscape and Garden Product Directory
A typical definition of horticulture is 'The art and science of growing fruit, flowers, ornamental plants, and vegetables in small gardens'. It is therefore quite different from garden design. Horticultural education deals with plants, planting, soils, cultivation and propagation. The horticulturalist is concerned with growing plants. Design education deals with the with composition of the six prime elements of garden design:
plants
landform
water
vertical structures (walls, buildings, etc)
horizontal structures (paths, roads, paving etc)
climate
The word horticulture comes from the Latin hortus, meaning a garden. Cato used hortus to mean the part of a farm which was watered and used for growing vegetables. In town houses, as at Pompeii, the rectangular space at the rear, was known as a hortus, or xystus, and used for vegetables and flowers. Sometimes hortus was used for a private pleasure garden with statues, grottoes and topiary, as at the House of Loreius Tiburtinus.
Note: There not being many famous jokes about gardens, Dorothy Parker's quip stands out 'You can take a whore to culture but you can't make her think'.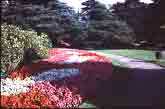 Carpet bedding requires horticultural expertise.