Herb garden seeds
Herb gardens were very popular during the Middle Ages. The herbs were used for:
Growing herbs is particularly associated with monasteries. Monks and nuns were the people with most knowledge of both growing and using herbs. Herb gardens' return to popularity is associated with the twentieth century enthusiasm for cooking. Fresh herbs taste better than dried herbs and, if you grow them yourself, are cheaper as well.
James Wong's popular book on Grow Your Own Drugs: Easy Recipes for Natural Remedies and Beauty Treats
teaches you to treat common conditions using the herbs, flowers, fruits, vegetables and roots growing in your garden.
The best plan is to keep a stock of herb seeds and sow them when required.
Mint is a very vigorous herb. Its spread can be controlled by planted it in pots rather than directly into the soil.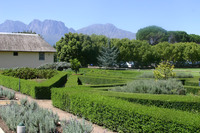 Herb Garden at Vergelegen, South Africa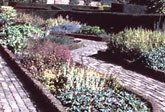 A modern herb garden