Mortar in design - review
Landscape and Garden Product Directory
Old garden walls were built with lime mortar, which is softer and kinder to plants than cold grey Portland cement. Hydraulic lime is made by heating chalk or limestone to drive off the carbon dioxide. When it is re-mixed with water (and known as lime putty) and then exposed to the air, it recombines with carbon dioxide and reverts to its original chemical state. Carbon dioxide reaches the outside of the mortar first, and it may be a century before full bond strength is achieved. This has made lime mortar unpopular with builders, but it can still be used by gardeners. Twenty years after completing a wall, one can be thinking that "it's gaining strength now', as one does with a tree of the same age.
Lime mortar should be given preference to cement mortar in garden construction:
the symbolism is better
lime mortar is kinder to plants
the delay in achieving the mortar achieving full bond strength is an advantage
construction in lime mortar is much easier to take apart, so that the bricks or stones can be re-used on another project
The examples to the left are from the enclosing wall of Greenwich Park. It was built with underfired soft bricks, protected by capping. For a time it was insensitively maintained with Portland cement mortar. English Heritage changed their policy and it is now maintained with lime mortar only.
See section on bricks and brickwork.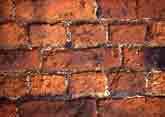 Sixteenth century bricks in lime mortar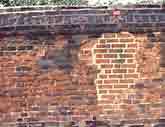 Llime brickwork patched with Portland cement mortar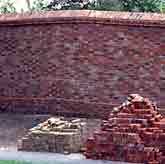 New multi brickwork with lime mortar