Corten Steel Planters
Corten steel has many uses in garden and landscape design. It is also called weathering steel - because it resists the weather so successfully. Garden designers and landscape architects use it to make garden planters, retaining walls and other structures.

Iron, at 5%, is the fourth most abundant element (after Oxygen, Silicon and Aluminium). It does much to give soil its rich colour and provides a superb backdrop against which to see the natural colours of leaves, flowers and soils. Mild steel products can look beautiful in gardens - but they rust. Corten steel, as the photographs show, looks like any other steel when it comes from the mill. It quickly develops a rusty layer but then, as with lead and aluminium, the oxydation process ends. The rich patina becomes a protective coat which halts further weathering.
Our sister site CrinkleCrankle sells a range of Corten Planters.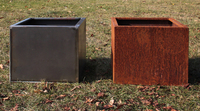 Corten steel garden planter: left:fresh from the steel mill, right: after 2 weeks weathering - corten mellows to a richer colour after about 3 months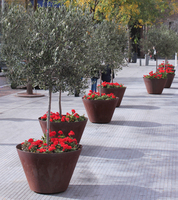 The rich red-brown of weathered Corten steel planters is offset by greens, reds and olive-greens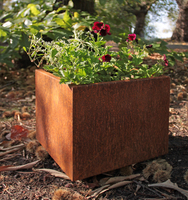 Corten steel garden and landscape planter, with autumn leaves and geraniums