Garden Electric Lighting

Electricity has opened up a new arena of garden lighting. It may not have the charm of gas lighting or oil lighting but, once installed, electric lighting is a great deal more convenient. Installation of mains-supply outdoor lighting requires professional skills. High voltage electric cables must be protected from water and from mechanical damage. This is done using protective ducts or armoured cable. Low voltage electricl lighting operates from a transformer, best located within a building or protective housing. Low voltage wires can then trail on the ground.
A wide range of electric fittings is available in a wide range of materials: uplighters, downlighters, luminous fittings, lamps, lantern, lanterns, fiber optics, floodlights, spotlights etc. The design of light fittings has attracted modern designers to work in modern materials: aluminium, stainless steel, fiber glass. Traditional materials are also used. Electric lights can be made of copper and glazed. Acrylic sheeting can replace glass for safety reasons.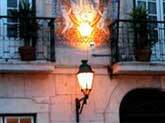 Outdoor lights work well with painting and plants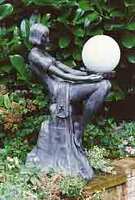 Art deco electric light - the girl is in lead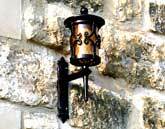 Outdoor electric lantern