Watering cans - review
Return to Garden Tools Home
Too often, watering cans look bright in the shop but have no other virtues. They should be:
Decoratively, watering cans can sit like cats in gardens - always in well chose positions and always adding to the scene.
Functionally, a watering can needs:
a handle in a balanced position - to hold when carrying the can without spillage
a handle in a 'backward' position - to hold when pouring from the rose
a removable rose so that the can may be used without a rose and so that the rose can be cleared when blocked (the rose is the perforated attachment at the end of the spout)
The spout should be slightly higher than the height of the body of the watering to allow the watering can to be filled to the brim. Roses can be either round or oval. The shape and angle of the rose will determine the force of the stream of water from the rose.
As to materials:
galvanized iron now enjoys an antique air (but it is still heavy and somewhat subject to rust)
plastic is light, cheap and durable, but NEVER has the charm of an old watering can
the best quality roses tend to be made of brass - they have greater longevity as the holes will not widen with use and they are easy to clean
It is worth considering buying two watering cans - not only will this mean that you can transport more water but it is also more ergonomic as you are balanced when you have a can in each hand. It is traditional to have one red watering can for soluble fertilizers and one green watering can for pure water.
Since plants prefer water at air temperature to water at tap temperature, many gardeners like to position full cans of water around the garden so that the water can warm-up before use.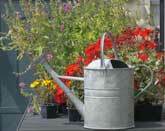 Galvanized iron watering can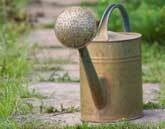 Rusting watering can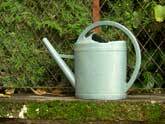 Plastic watering can with hoop handle
Watering Can, Chelsea Flower Show 2008